Today we will be comparing AdMob vs AdSense Revenue with proof. As we know there are so many online Advertisers paying a good amount of money and serving High quality of ads.
One of those is network is AdSense and AdMob both are the product of Google which Serves Personalized, Contextual, Placement, and more targeting types Ads to the users.
Which Network Generate more Revenue with Proof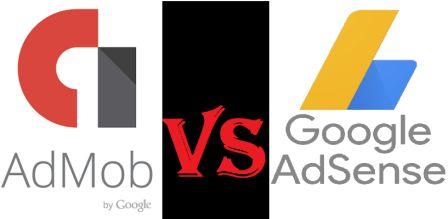 AdSense is basically an Ad network through which publisher can serve Ads on there Websites or Blog which have user-friendly content. So Adsense mainly focused on site based Advertisement through which publisher can earn good money, AdSense works on CPC cost per click.
Also read: How to get Google AdSense Approval on XYZ domain blog
AdMob is an Advertisement network through which publishers can serve Ads on their mobile Apps, Admob terms as "advertising on mobile". AdMob works on CPM (cost per 1000* impression).
My Experience With AdMob and AdSense
As per me and my friends experience we both work together, use AdSense and AdMob for our website and mobile Apps and after 1 year of completion, we got a report which compares Adsense earnings and AdMob earnings.
I have used Text, Video, Rich Media, Image, Animated image types of Ad provided by Adsense, Admob. Rich media gives high earnings than other but Text Ad gets more clicks and helps to maintain CTR of account.
We are getting 70 to 80% traffic from second-tier countries like India, Pakistan, Nepal… traffic quality matters a lot, and traffic coming from countries
AdMob Revenue vs AdSense Revenue
Showing AdSense Network Earnings proof – For Website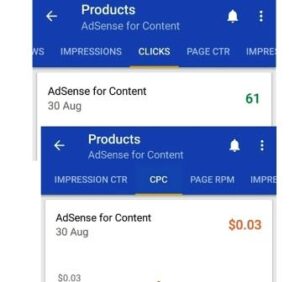 Adsense for Content The Adsense Report showing 61 clicks and the average CPC is $0.03 that means we are getting $0.03 per click-through website Ads using Adsense network.
Showing Admob Network Earnings proof – Mobile apps
Admob mobile advertising The Admob Report showing 38 clicks and the average CPC is $0.01 that means we are getting $0.01 per click through Mobile apps ads using Admob network.
You must know: Which Pay more money AdMob or Facebook Audience Network?
Final Words
No doubt Adsense and Admob both are the largest and trusted online advertisement network managed by Google. However, when it comes in term of revenue everyone searches for which advertising network let publisher to earns more Adsense or Admob?
AdSense approved Website, blog which has a tone of quality pages or content with good traffic can easily make 2 to 3 times more than a mobile application that uses Admob Ads.
On the other hand, it is easy to make money through Admob because both Adsense and AdMob only pay a publisher for CLICKs by the user. The mobile application definitely gets high CTR and clicks on Ads than a Website. Importantly, it's difficult to get an Adsense Approved for serve Ads on a website or blog.