In this blog post, I'm gonna share my performance report from both these Ad network. And let's compare their Estimated earning, eCPM, fill rate, Impression, and Match rate. An overview with the scope and it will be AdMob vs Facebook Audience Network Earnings So, sit back and relax because it's going to be a detailed comparison.
Which is Best Ad Network AdMob or Facebook Audience Network
AdMob and Facebook Audience Network (FAN) both are optimized Ad networks for mobile-based ads and pay a very decent amount of money to their publishers. As both are very famous and they have a bundle of Ads that you can show to your app users and generate huge revenue based on your app potential and user's location.
Ad Network joining eligibility
AdMob
Joining the AdMob network is easy and free just you need a Google account and then you can easily sign up for a new AdMob account. But make sure you don't have any existing AdSense or AdMob account.
Facebook Audience Network:
Using Facebook Audience Network for displaying Ads in your Mobile apps is a little bit difficult. Because they review the app manually before serving live Ads. Although, your app must be Live in Market app i.e Google Play Store, Amazon app store, and App store in order to get reviewed by the network team.
Ad Network Realtime Features
AdMob
AdMob worlds #1 mobile ad network comes with great features and support mediation technology. When talking about Realtime features inside the AdMob dashboard you can see the Users metric, allow you to link your app with Google Firebase to increase app potential and user engagement. And additionally, you can see your live Estimated earnings, Active eCPM, impressions, ad request, and many more.
Facebook Audience Network
When it comes to Facebook Audience Network realtime features they are lacking behind the AdMob network because they don't provide much transparency in their dashboard you will see your apps today's performance on the next day.
Estimated revenue
AdMob
As we know AdMob is a mobile advertising company controlled and managed by Google AdSense. All your revenue which you earn through AdMob gets Finalized in your AdSense account at the End on the Month. Remember Estimated revenue is not your final earnings as AdMob may cut some of your earning because of Invalid clicks and traffic. In case, you have doubts regarding estimated vs finalized earnings.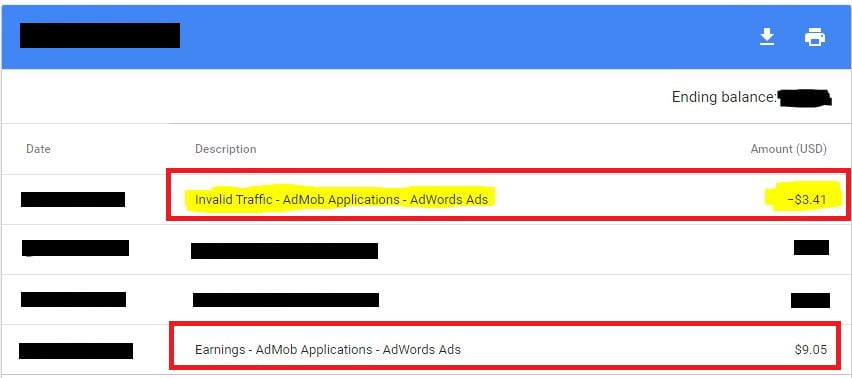 Read more: How to earn more by decreasing invalid activity
Facebook Audience Network
Facebook Audience Network fully controlled and functional by Facebook inc. you can place Facebook ads in your Apps (Android & IOS), Website, Instant article, Video monetization. As per my 1-year experience with Facebook Audience Network for mobile app ads, I have never face any issues with estimated and final payouts as they never deducted my money and In my case, the estimated payout is always equal to the final payout.
Earning Payout
You can withdraw your money once you earn 100 USD (dollars). In both, AdMob and Facebook Audience Network Account you need to generate a minimum of 100$ revenue which is required to transfer that amount in your Bank account.
AdMob for Mobile Ads
After the starting of the month, your previous month's income gets converted to your final income and then you'll be given payment on nearby the 21st of the month. Sometimes it gets delayed also.
Facebook Audience Network (FAN)
Same as AdMob payouts FAN also finalizes your previous months of income after the starting of the new month. And then your payment is sent to your Bank account around the 15th of the month. And sometime it may take a longer time for International payments and depend on your bank also for currency conversion.
AdMob vs Facebook Audience Network: Income (eCPM)
Let's compare both network income, Estimated earnings, and active eCPM. As eCPM plays a very major role to increase your app revenue or income and after using these ad networks I'm very much satisfied with Facebook Audience Network but again there a Cons also it provides a low Fill rate as it seems they are running out of Ads.
Also read: Admob vs AdSense Earning Proof CPC
Facebook Audience Network Earning

AdMob vs Facebook Audience Network: My Final Words:
Since 2019 I'm using AdMob and Facebook Audience Network continuously for monetizing my mobile apps with these two Ad networks. Undoubtedly Facebook Audience network pays more revenue than Admob because of Higher eCPM (effective cost per mile).
| | | |
| --- | --- | --- |
| Network Benefits | AdMob Network | Facebook Audience Network |
| Ease Joining Network | More easier | Difficult |
| Realtime feature | Better than FAN | Poor |
| High eCPM | Lower eCPM | Higher eCPM |
| Good Fill rate | Better than FAN | Lower Fill rate |
You may like: Best Trick to Fix slow loading AdMob Ads in App