An initiative Let's play Ecco Friendly Diwali by downloading Diwali Real Cracker Game.
About Diwali festival
Diwali or Deepavali is celebrated two to five days (depending as per Calendar) Diwali is a festival of lights and the biggest festival in India, celebrated by every religion by Hindu, Jain, Sikh and some Buddhist and more every winter or autumn in the northern region. One of the most popular festivals of Hindus, Deepavali represents the spiritual "victory of light over darkness.
Diwali Real Cracker Sound box 
The Diwali Real Crackers SoundBox App uses 100% real Crackers sound, high-quality, and user friendly.  Diwali cracker soundbox is Free to Download
And explore free Diwali crackers bombs sound following are the bombs available for free
1. Sutli bomb also known as Atom bomb
2. Bullet bomb
3. Laxmi bomb
4. Mirchi Bomb small
5. Three shots bomb
6. Sparkle sky shots   Access to all Premium bombs  @0.99$ just special *Diwali offer* Premium bombs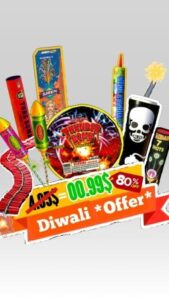 Seven shots cracker
Thunder cracker
TNT pro cracker
Whistle cracker
Siren cracker
Big Sky Shot (Larger) cracker
Dark Big Cracker
And now All-time favorite bomb – 10,000 wala cracker bomb (10k Mirchi bomb exclusive)
App also contains audiovisual of crackers sounds in the video
Note: You headphones to enjoy Sound
Happy Diwali to all